Resources for Clients of the
Law Office of John L. Roberts

DECLINING NUMBER OF AVAILABLE FAMILY CAREGIVERS: Protect yourself and your family. Keep Health Care Proxy and Power of Attorney Documents Current.

Health Care Proxy and Power of Attorney are important papers that document who we want to take care of us. These advanced directives need to be undated every few years, because circumstances change.
As we boomers grow older, AARP study shows a shrinking number of potential caregivers (people age 45–64) for each person aged 80 and older.
"In 2010, the caregiver support ratio was more than 7 potential caregivers" for every 80+ year old person.
By 2030 (just 17 short years from now), the ratio declines to 4 to 1.
AARP expects it to fall to less than 3 to 1 in 2050, when all boomers will be in the high-risk years. To make an appointment to update your Advance Planning Documents, call: (413) 567-5600.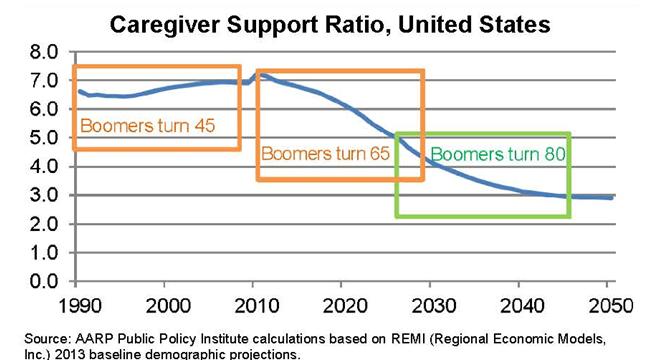 Massachusetts Makes IRA Decisions More Difficult.

If you have a close friend or family member who resides in a long term care facility, you probably remember the nursing home admission as a difficult time of transition.

Massachusetts piles additional complex financial decisions onto the spouse of a person going into a nursing home, if the spouse has saved for her retirement. In many cases, the spouse must take their retirement funds and buy an annuity, to comply with current Massachusetts Medicaid law.
The Massachusetts legislature should enact a law that will make the pension or Individual Retirement Account (IRA) of a community spouse a non-countable asset.
Click here to read the text of the proposed law, and the testimony of Attorney John L. Roberts presented to the Health Care Committee.
================================
Residential real estate is often the most valuable asset to consider during estate planning,
and estate settlement. We handle residential real estate conveyances and closings. To make an appointment call: (413) 567-5600.

For estate estate settlement services that keep you in control of the probate process, and for answers to questions from the decedent's heirs and family members, call for an appointment: 567-5600.
Other States Do Not Count Spousal IRA Against Her.
Medicaid regulations and laws in other states, and the District of Columbia, do not count the funds in an IRA or a pension against the spouse. All but one of these states also allow the person living in a nursing home to keep their IRA or pension fund, as long as the qualified account is paying Required Minimum Distributions (RMD) that are applied to the Patient Paid Amount or to supplement the income of a spouse at home. Click for: comparison of state Medicaid regulations.

Estate Tax Planning for 2013
Estates valued under $5 million are safe from federal estate and gift taxation. Here is how the January, 2013 tax legislation affects estates and gifts:
• Lifetime Federal Estate Tax Exemption. The 2013 tax law permanently installs a unified federal estate and gift tax exemption of $5 million that will be adjusted annually for inflation. The maximum estate tax rate will be 40 percent. The exemption amount was $5.12 million in 2012, and after being adjusted for inflation the amount will be approximately $5.25 million.
• Federal Estate Tax Exemption Portability. The law also makes permanent the right to leave your unused federal estate and gift tax exemption to your surviving spouse.
Marital Trusts Can Save Couples from the Massachusetts Estate Tax. Most estates are safe from the Federal Estate Tax, but Massachusetts will still be taxing any estate worth more than $1 million. Couples can benefit from planning to use both of their $1 million exemption amounts.

What Happens Without a Will?


If a parent neglects to write a Will, and leaves a spouse and children, state law requires that children receive part of the estate. This is a problem, especially if your estate includes a small business.
More problems arise if money passes directly to a child, rather than a trust that can protect their inheritance:
This video series tells more about who manages your estate if you don't leave a will, and how the Massachusetts Probate Code will affect your children and grandchildren if there are no documents to guide the settlement of your estate.

Read more about Wills, Will Preparation and ways to Avoid Probate. Call (413) 567-5600 to schedule an appointment to protect your family.